Welcome to the first issue of Poth Hille's R&D newsletter. Each issue will outline some of the new developments available to customers and upcoming products that our team are currently working on. This issue will highlight natural candle waxes, natural petroleum jelly alternatives and natural, vegan lip balm – yes, the key trend is Natural Everything!
Natural Vegan Candle Waxes
A high performing natural candle wax is a difficult nut to crack, even for wax experts like us here at Poth Hille. Going natural has many benefits, including a cleaner burn and longer-lasting candles. So, this section will give you an outline of all the natural and vegan candle waxes we can offer, plus highlight the different natural blends we produce to order.
Soy Wax
Soy waxes are the most common natural and vegan candle wax used. It is derived from soybean oil. We offer two grades: Nature Wax C-3 and Eurosoy 800. Both are sustainable, GMO free and 100% pure soy – no additives! Eurosoy 800 is sourced in Europe so has a reduced carbon footprint adding to its sustainability.
Rapeseed Wax
Rapeseed wax is derived from rapeseed oil so is also sustainable and GMO-free. We offer Euro-Rapeseed which is a perfect alternative to soy wax and is also sourced from Europe. We also have a blended Rapeseed container wax and blended Rapeseed pillar wax.
Coconut Wax
Coconut wax is derived from coconut oil and is a very soft candle wax which makes it perfect for massage candles and candle blends. We offer one grade of coconut wax.
Natural Candle Blends Available
Poth Hille offer blends of the above waxes to order. We have the Soy and Rapeseed Candle Blend, Soy and Coconut Candle Blend and Coconut and Rapeseed candle blend. All blends show great adhesion and scent throw. For sample requests and specification details, please contact us directly for this to be arranged.
"The key trend is Natural Everything!"
The Cherry Red Shimmer Depilatory Wax
Our new depilatory wax which offers a fun, colorful, scent-filled efficient waxing has arrived.
It contains Aloe Vera which has both anti-inflammatory and antioxidant properties, plus vitamins A and C which are great for the skin.
This exciting new wax will be available soon to order so hold tight… it's coming!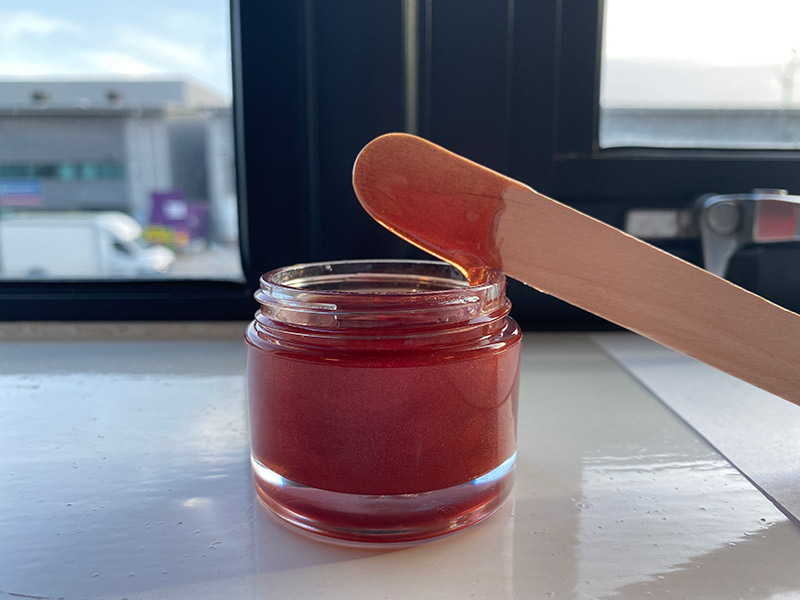 Natural Petroleum Jelly Alternatives
Petroleum jelly is very popular in cosmetic formulations where they are used in lip balms, mascara, stick pencils and creams. Due to their oil derived origin, more natural alternatives are being developed to meet the demand for sustainable ingredients in the market. Poth Hille can offer alternative petroleum jellies for all applications:
Vegaleen Natural and Vegan Petroleum Jelly Substitute
A creamy petroleum jelly that offers high moisturizing powers and good film-forming properties that are a great addition to formulations that need their viscosity increased. It is based on sumac wax so is both natural and vegan!
Natraleen Petroleum Jelly Substitute (available in white or yellow)
A petroleum jelly substitute which offers smooth spreading, some tack and firm consistency. It uses beeswax so is a natural alternative that is ideal for cosmetic applications.
Our team is currently developing two new alternatives: one based on carnauba wax and one based on candelilla wax. This range will offer different vegan petroleum jellies that can suit any application due to their different properties.
Coming Soon…
Vegan Lip Balm Base
We are developing a lip balm base with one of the petroleum jelly substitutes. It offers high moisturising powers and superior shine to keep your lips hydrated throughout the day or provide a great foundation to your cosmetic formulation.
Contact Us
If you are interested in discussing anything presented in this newsletter, please feel free to contact us.